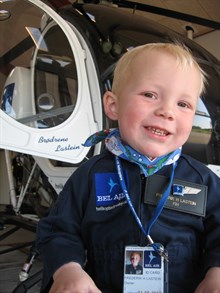 Second to none in the helicopter business
Employees – second to none
Safety, precision, quality, exceptional flexibility and respect for other people are the main contents in Bel Air's dream team of employees.
Bel Air's employees have an optimistic view of life and not least a great want to take on new challenges. Finally, we are all experienced within the helicopter business, are professionals and have a great respect for the rules of the game.
High motivation and positive view of life
All of our employees are highly motivated and have a positive view of life. We see opportunities – not limitations. In all parts of the chain we try to obtain maximum flexibility, which leads to job satisfaction; because each one of us feels that he or she makes a difference. As a result, we are able to provide an excellent service to our customers.
The families behind our employees are also an important part of the company. In Bel Air, we believe in the whole person concept, so – wherever it is possible – the individual employee will adapt his or her daily life according to own needs, in due consideration of the company's operation.
We believe in freedom with responsibility and in the importance of making a difference.
Our employees are special…
The employees possess an optimistic view of life and – not least – a great want to take on new challenges and with a maximum of flexibility.
We attach great weight to employee care – and thus, also care of the families behind them. They have a high priority in Bel Air.
It should be nice to be in the team, and the employees should have a reason for being proud of working with Bel Air. This is characteristic to the company – and should be so in future.
The precondition for employment is the following attitude and human characteristics:
Positive attitude to things
Flexible
We talk with each other – not about each other
Loyal to the company, to employees and to management
Co-operative
Diligent
Good humour
Do you match these human characteristics? If so, click here...