Du er her: 
Forside / 
Nyheder / 
Ground Operation Manager
Ground Operation Manager
Proactive Ground Operation Manager – Esbjerg area

We are looking for a new Ground Operation Manager who will be responsible for safe and efficient flights in accordance with current EASA regulations. The new Ground Operation Manager will replace our present Ground Operation Manager who wishes to retire within the next six months.
You have minimum 3 years' experience within aviation and coordination of flights and crew as well as strong and efficient management and communication skills. You respect the variety of competences of your colleagues and with your coordination skills and positive approach you ensure that tasks are solved in cooperation across the organisation safely and on time.
Tasks and responsibilities
Your primary tasks will be to ensure the safe operation of our helicopter flights in accordance with current regulations and standards, preparation of schedules in close dialogue with among others our Flight Operation Manager and the pilot team and responding to commercial requests for flights in close cooperation with our Accountable Manager.
Regarding daily operations we expect you to be detail-oriented around the contractual requirements from our various customers, so that we can ensure that our Ground Operation are carried out to the full satisfaction of our customers – it must come natural to you to provide the best service and flexibility to both customers and colleagues.
It is important that you carry out the operational functions in close and solution-oriented cooperation and sparring with especially our Flight Operation Manager and the pilot team. We expect you to be naturally flexible and service minded just as cooperation and teamwork are highly weighted.
We expect the following professional and personal qualifications from our new colleague:
• Management experience
• Minimum 3 years' experience within aviation and coordination of flights
• Experience with update and development of manuals and procedures/standards
• Experience with administrative tasks, updates and audits
• Fluent English (willing to learn Danish, if not native language), written and verbal, other languages will also be an advantage
• Good knowledge of Microsoft Office and other IT systems
• Structured
• Honest and loyal
• Proactive, action- and solution-oriented
Bel Air offers you:
• A job in a dynamic and interesting company
• Positive, cooperative and flexible colleagues
• High level of safety demands
• A serious and informal working environment
• Good humour
• All-round and busy workdays
• Salary in accordance with qualifications
• Pension and insurances
• Lunch and breakfast scheme
• Employee social club
Further information:
Please send your application before March 15th to application@belair.dk.
We will carry out job interviews continuously and appoint the right candidate when we find the right match.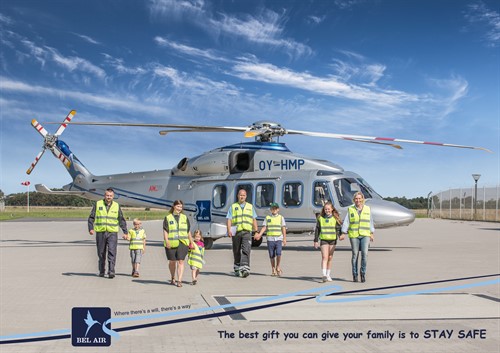 Where there´s a will, there´s a way
Follow us - Belair.dk, LinkedIn, Facebook