You are here: 
Minirally in Holland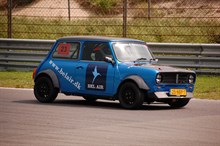 Minirally in Holland
Since one of our great pilots, Christian, was 18 he has driven and worked with Mini's, according to Christian they are the perfect basis for building a racing car.
Christian's goal was to build and drive classic mini. He has imported a mini from 1970 from England, already modified with a faster engine. Christian has improved the mini further, installing safety equipment and improving its performance, so that the original 1.0-liter engine has been replaced by a 1.8-liter racing engine.
After nearly a year Christian's mini was ready for racing and he now uses it in HARC (Historic car racing club) in Holland. The mini can be used for racing tracks as well as small slalom and hillclimb racing.