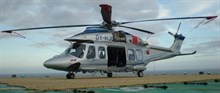 AW139 helicopter
The Bel Air fleet is among the newest fleet operating in the North Sea. Bel Air believes in new technology and modern equipment if it fulfills a higher safety standard and will be profitable for our customers. This philosophy extends to Bel Air – and the AW139 fulfills all requirements.
Bel Air has a growing fleet of AgustaWestland 139's, a medium-size helicopter capable of carrying up to 15 passengers (configuration for 12 passengers and two pilots) and travelling at a speed of 145 knots. All aircrafts are outfitted with the latest performance enhancing technology.
Manufacture AgustaWestland
The AgustaWestland 139 comes from the manufacturer AgustaWestland in Italy. The AW139 is one of the most modern and efficient helicopters in the world. It provides state of the art performance with the latest safety features and certifications.
Performance and data
The AW 139 is engineered to the highest safety standards with energy-absorbing landing gear, fuselage and seats designed to meet the rigorous JAR/FAR 29 standards. The cockpit features excellent visibility, redundant flight systems and Honeywell digital avionics reducing pilot workload. The AW139 delivers Category A (Class 1) performance from the helipad at Maximum Gross Weight, allowing continued flight in the event of an engine failure.
Specifications
| | |
| --- | --- |
| Cruise Airspeed | 145 kts |
| Basic Operating Weight | 4.250 kilo |
| Max Gross Weight | 6.800 kilo |
| Max Fuel | 1.500 kilo |
| 30 Min. Reserve Range (Non Refueled) | 370 NM |