You are here: 
Ad hoc helicopter service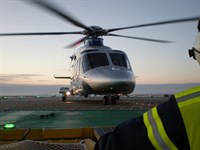 Ad hoc helicopter service
Bel Air can carry out helicopter services in accordance with the wishes of our customers - but not to countries that we consider to be unsafe for our employees and passengers. 
Bel Air can offer the following ad hoc services with our helicopters:
Offshore flights to platforms, rigs, ships, etc.
Hoist flights
Cargo flights
VIP flights
Photo flights
We have a very flexible team, dedicated and ready to help you with your ad hoc operations – with very short notice.
Contact us – and our Operation can help you with prices and planning: post@belair.dk – Hotline +45 4019 6969