You are here: 
Leonardo Excellent Service Center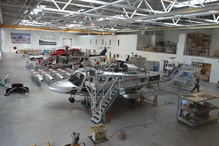 Leonardo Excellent Service Centre
Bel Air technical department has our own EASA part 145 approval and fully compliant Part M organsation with review rights for maintenance of AW139 and AW189 helicopters in own service centre.
An 'Excellent' ranking is assigned by Leonardo Helicopters to selected Service Centres focused on maintaining third party fleets and having the largest scope of service capabilities to meet specific market needs.
We are proud to be one of the few service centres in the world appointed with the Excellent ranking and we look forward to continuing our great and longstanding cooperation with Leonardo and our excellent work for our own helicopters and for other helicopter operators.
Support services offered
• Service maintenance AW139 helicopter
• Service maintenance AW189 helicopter
• Check and certification of life rafts
• Check and certification of floats
• Check and certification of helicopter tyres
High standard and flexibility
All employees involved in helicopter maintenance have completed specialized, qualifying education to ensure high standards and safety within our work and maintenance of the helicopters. 
All our employees are highly motivated and have a positive attitude. We see possibilities instead of limitations. We always try to optimise our flexibility – this increases job satisfaction as we all help make a difference. The result is that we can offer unique service to our customers.  
Minimum downtime for maintenance
As helicopter operator we have first-hand insight in aviation and we know the consequences of having an aircraft out of operation for maintenance.
Therefore we have optimized our planning of tools, spare parts, working foundation and especially the right technicians for the specific tasks at hand in order to ensure you a minimum downtime. 
Our logistic systems ensure that we have the right spare parts available at the right time. Our incoming goods inspection ensures that all spare parts originate from approved suppliers. All spare parts are kept in a locked and secured room for optimal security. 
All our internal procedures are approved by the Danish Civil Aviation Authority, we are regularly audited by both internal and external auditors in order to guarantee the best possible quality.