You are here: 
Offshore wind turbine services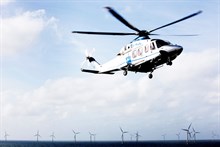 Offshore windturbine flights
Bel Air has experience with operations to offshore windfarms. We have a team of employees with great experience within offshore windfarm operations - both pilots and technicians.
We follow the highest safety standards
With performance requirements to the helicopter always being able to hover without losing height in case of an engine failure, the AW139 helicopter is perfect for this job. AgustaWestland and thus Bel Air with the AW139 helicopters, do indeed meet these standards in all phases of the hoist operations.
We have used many ressources to ensure that Bel Air has the helicopters in that relevant class, that indeed does meet the safety requirements concerning performance for offshore and hoist operations.
The level of performance concerning hoist operations has thus raised the safety dimension - without risking the safety in a situation with engine failure in the most critical phase of the flight. The AW139 helicopter is able to hoist with only a single engine which increases the safety for all participants in the operations.