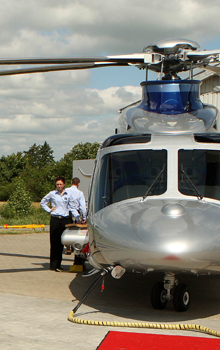 Goals
Making Bel Air an internationally recognised operator

This includes branding on our website, in media and participating in international conferences and seminars.

Preparing Bel Air organisation for any challenge

This includes working to ensure that our company meets international demands, which means that we will focus on optimal service and logistics. The most important factor to ensure this is continue to recruit and retain very professional and experienced employees.

Optimising Bel Air operations as much as possible

We will focus on an optimal combination of employees and helicopter types. We will assign great weight to adapting our operations to the demands of the various markets and developing operational concepts specially adapted to the needs of our customers. 

Preparing Bel Air maintenance department for major, external maintenance contracts

Ensuring that our company lives up to the equivalent of ISO certification 9001, 14001 and Safety Management System and ensure that we fulfill the demands to the international market thus improving our chances to win contracts.

Making Bel Air safety and environmental development an integrated part of daily life

Safety, quality and environment are top-priority for all employees at Bel Air, from purchasing to planning, management and sales to flight operation and continuous airworthiness. Safety and environment are thus focus areas for everyone at Bel Air. 

Bel Air wish to be one of the best companies within our line of business when it comes to well-being and working environment. This can only be fulfilled if we work towards the same goals. 

We also make demands to our suppliers regarding safety and environment.

Preparing Bel Air employees for the future development

Staff development is one of our focus areas. We will have staff development interviews annually and we will set up continuing education and career development for the individual employees.

All employees will have a job description so that there can be no doubt about responsibilities and authority. At the same time we all work as all-round employees which means that we help out where and when the need arises, thus ensuring flexibility and adaptability.